Progressive organisations and businesses are continuing to drive the development of a hydrogen-fuelled transport future with Dr Alan Finkel, energy retailer Red Energy, hydrogen fuel-cell bus and truck manufacturer Hyzon, Telstra, ACCIONA and Melbourne's Yarra Council among the latest to take delivery of a new Toyota Mirai fuel-cell electric vehicle (FCEV).
The advanced hydrogen-fuelled Toyota Mirai is being offered in limited numbers on a three-year lease arrangement to forward thinking businesses and organisations to experience the zero-emission sedan in real-world, daily driving conditions.
As part of the lease agreement, refuelling for Victorian based clients is included at the Toyota Hydrogen Centre in Altona, where hydrogen is produced and stored on site using a 200kW electrolyser, that draws power from a combination of an 87kW solar array, 100kW battery storage and mains grid depending on availability.
Former Australian Chief Scientist and now Special Adviser to the Australian Government on Low Emissions Technology, Dr Finkel said he had always been an early adopter of new technology and was keen to advocate for hydrogen as part of a sustainable transport future.
"Hydrogen will be a big part of our future. Most of the replacement of oil, coal and gas will be electricity delivered as electrons, but about 15 per cent of the end-user requirements will be delivered as hydrogen," Dr Finkel said.
"Big trucks are the most obvious opportunity. It's a bit like diesel and petrol – you associate diesel with big trucks, buses, trains, and ships, and petrol with small urban delivery trucks and cars. Battery electric vehicles (BEVs) and hydrogen fuel-cell electric vehicles (FCEVs) tend to split that way, but there is overlap. Where hydrogen will really excel for cars is for people who don't have off-street parking.
"It's fantastic to be able to take the Mirai and fill up in about five minutes. So for those people who live in older houses in inner city Melbourne or Sydney, or live in apartments that don't have provision for car parking, then a hydrogen car is wonderful," he said.
For Iain Graham, CEO of Red Energy, a retail arm of Snowy Hydro, leasing a Mirai was a natural extension of the company's core business of selling renewable energy.
"It was important for us to understand what is the future," Mr Graham said. "We've always looked to how we are going to be competitive and what's on the horizon.
"When electric vehicles came along, we were one of the first to get one which has been a tremendous education for us and a wonderful tool to talk about renewable energy and how practical it is.
"When we saw that Australia was starting to look at hydrogen and Toyota was involved, we wanted to understand this. Hydrogen is probably a distance away before it's commercially practical but we wanted to be at the very front in our understanding.
"We have always thought about the customer and that's what Toyota does as well. The Mirai is intuitive if you are used to driving a petrol car, but it has the feel and responsiveness of an electric car. It's a very good initiative by Toyota," he said.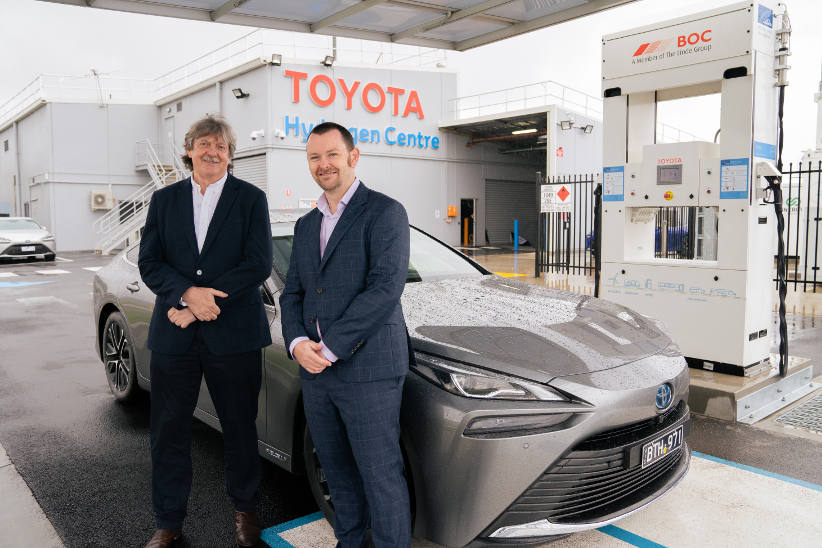 Hyzon Motors Australia was established in Melbourne in May 2020 to supply the Australian and New Zealand market with heavy-duty, hydrogen-powered trucks and buses. The company has also recently taken on a Mirai on three-year lease.
Headquartered in Rochester, New York, Hyzon is a manufacturer of commercial fuel cell electric vehicles with operations and vehicles on the road across three continents. Its fuel cell technology, developed through almost twenty years of research and development, is purpose-built to support the demanding applications of hauling heavy freight.
Hyzon Motors Australia Head of Special Projects Simon Coburn said leasing a Toyota Mirai would further help the company raise the awareness of the growing hydrogen fuel-cell industry and its potential for reducing transport emissions.
"The Mirai is a simple way to enable Hyzon's employees, prospective customers and partners to normalise hydrogen. Not many Australians have even seen a hydrogen vehicle let alone experienced one and the Mirai is a beautiful execution of an FCEV," Mr Coburn said.