A key pillar in the Mercedes-Benz strategy to electrify its passenger vehicle range falls into place with the arrival of the EQE SUV range. With a choice of enticingly family-friendly models, customers who favour a luxurious and spacious five-seat SUV.
The all-new EQE SUV range utilises a base architecture developed by Mercedes-EQ specifically for its range of medium and large electric vehicles, which also includes the EQE and EQS sedans, and the forthcoming EQS SUV.
At 3030 mm, its wheelbase is more compact than the EQE sedan on which it is based, making the EQE SUV easy to manoeuvre in the urban jungle. However, its generous length/width/height dimensions of 4863/1940/1686 mm provide spacious accommodation for up to five adults, and project a commanding presence on the road. The capacious boot space holds 520 litres of luggage with the back seat in place, and 1675 litres with the seats folded down into the vehicle floor.
Four-link suspension at the front and independent multi-link suspension at the rear lends a particularly agile feel (AIRMATIC air suspension with continuously adjustable damping is optional, and standard for AMG EQE 53 4MATIC+). Additionally, rear-axle steering that can angle the rear wheels up to 10° to further enhance steering inputs, is standard on the EQE 53 4MATIC+ SUV and optional on other models. Rear-wheel steering also maximises low-speed manoeuvring, such as in parking situations, and reduces the turning circle of the EQE from 12.3 to 10.5 metres.
A high level of safety is delivered via the standard Driving Assistance Plus Package, including equipment such as ATTENTION ASSIST, Active Brake Assist, Active Lane Keeping Assist, Parking Package with 360 degree reversing camera, and Speed Limit Assist. Ten airbags are fitted, plus the PRE-SAFE® PLUS and PRE-SAFE® Impulse Side systems that prepare the vehicle in the instance of an imminent collision.
Mercedes-EQ engineered a highly efficient thermal architecture for the EQE SUV range including a heat pump. This takes waste heat from the inverter and electric motor to supplement the vehicle's internal heating system, reducing draw on the onboard battery and thereby optimising achievable driving range.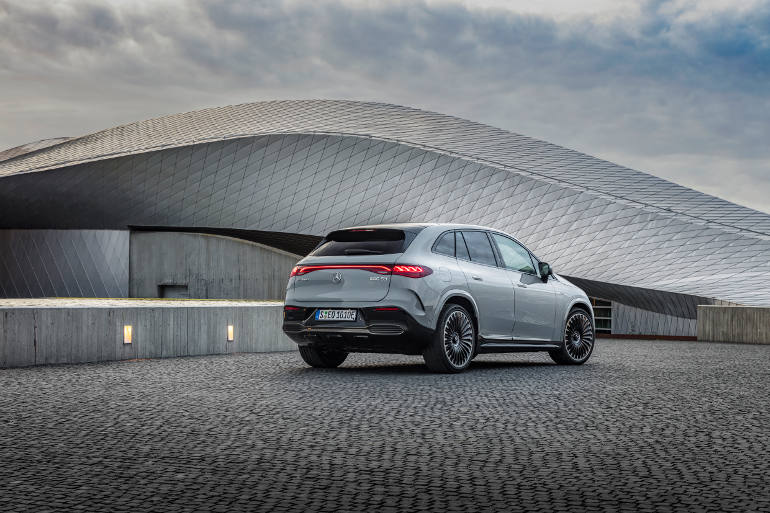 The future starts now
The standard interior specification includes a strikingly elegant and uncluttered layout featuring a beautiful OLED central display screen that is the heart of the advanced MBUX infotainment system featuring simple-to-use Zero Layer technology. A separate 12.3-inch, customisable display faces the driver.
Customers can specify the optional MBUX Hyperscreen (not available on EQE 300 model), which merges three screens almost seamlessly into a single striking display that spans the 141-centimetre width of the vehicle's front fascia.
The EQE SUV even greets its occupants by playing a futuristic soundscape upon entering the car, which includes a choice of two soundscapes (Vivid Flux and Silver Waves) as standard on all models.
Every EQE SUV is specified with the advanced DIGITAL LIGHT package with Adaptive Highbeam Assist Plus, which utilises one million micro-reflectors within each headlight to provide precise and highly responsive light distribution.
Taking charge
Driving range of up to 539 km (NEDC) can be achieved via a number of charging options including a conventional 240-volt household socket, a Mercedes-Benz Wallbox (both AC charging) an AC charge station, or via faster DC charging at rapid or ultra-rapid charging stations.
Utilising a Mercedes-Benz Wallbox (up to 22 kW output, sold separately) connected to three-phase power, it's possible to top up battery capacity from 10 to 80% in around 6 ½ hours. Meanwhile, DC charging offers the prospect of advancing charge from 10 to 80% in as little as 32 minutes using ultra-rapid charging (350 kW output), or in under 1 ½ hours via rapid charging (50 kW output).
Sounds different
More than 70 per cent of music consumers state that they listen to music mostly in a car, so an exciting new addition to the advanced Burmester® 3D surround sound system that is standard across the EQE SUV range is Spatial Audio with Dolby Atmos (for compatible formats).
Described as "the gold standard of sound", this system links with Apple Music and Universal Music Group to create an immersive in-car audio experience, including tracks that have been recorded and approved specifically for optimal playback in a Mercedes-Benz. It's also the first time that Spatial Audio with Dolby Atmos from Apple Music has been made available natively in a non-Apple device.
EQE 300 SUV
The feature-packed EQE 300 SUV belies its position as the entry model in the EQE range with an astonishing specification. A powerful e-motor mounted on the rear axle sends 180 kilowatts and 550 Nm to the rear wheels to generate smooth and instantaneous response in any traffic conditions.
Highlights of the EQE 300 SUV standard equipment list include AMG Line interior and exterior enhancements, a panoramic sliding sunroof, a head-up display, the latest generation of the intuitive MBUX infotainment system including navigation with augmented reality, full smartphone integration and wireless charging for mobile devices, the KEYLESS-GO comfort package and EASY-PACK tailgate, active ambient lighting with a choice of 64 colours, dual-zone climate control, leather upholstery, heated front seats, a Parking Package including 360° camera, and a Burmester® 3D surround sound system. Adding a further touch of class to the opulent interior is anthracite linestructure lime wood trim paired with high-gloss black finishes.
Exterior highlights include 21-inch AMG multi-spoke light-alloy wheels, heat-insulating dark tinted glass, and illuminated aluminium-look running boards. The distinctive radiator grille features a veritable galaxy of stars surround the main Mercedes-Benz badge.
The EQE 300 SUV is fitted with an 89 kWh battery pack, and all EQE SUV models are packaged with two charging cables – an eight-metre cable suitable for domestic sockets, and a five-metre cable for AC-powered public charging infrastructure.
The all-new EQE 300 SUV will be priced at $134,900 (MRLP + on-road costs).
EQE 350 4MATIC SUV
Building on the exceptional specification of the EQE 300 SUV, the EQE 350 4MATIC SUV is powered by dual e-motors variably sending 215 kW and 765 Nm to all four wheels via the intuitive 4MATIC all-wheel-drive system. This empowers the EQE 350 to accelerate from 0 to 100km/h in as little as 6.3 seconds.
The EQE 350 4MATIC adds a new feature to the EQE 300's outstanding equipment list. Known as Transparent Bonnet, this uses a number of cameras around the vehicle to provide the driver with a precise view of the environment directly beneath and in front of the vehicle, which is typically obscured by the bonnet. This is particularly useful in low-speed situations where road conditions may be variable such as off-road driving, and also in manoeuvring in tight spaces such as urban car parks.
The EQE 350 4MATIC will be priced at $144,900 (MRLP + on-road costs).
EQE 500 4MATIC SUV
This premium model will be available from launch for a limited time. From its dual e-motors and utilising a larger 90.5 kWh battery pack, the EQE 500 outputs 300 kW and 858 Nm for an impressive 0-100 km/h sprint of as little as 4.7 seconds.
With its substantially uprated performance, an identical generous specification to the EQE 350, and a limited release, the EQE 500 4MATIC SUV is destined to be highly sought after. It's priced at $164,900 (MRLP).
Mercedes-AMG EQE 53 4MATIC+ SUV
Quickening the pulse even further is the performance-focused EQE 53 4MATIC+ SUV from Mercedes-AMG for a sportier driving experience and extra differentiation.
The '53' significantly raises the bar again with 460 kW of power and an incredible 950 Nm of torque, equating to a 0-100 km/h sprint in as little as 3.7 seconds. Rear-axle steering is standard, as is AMG Active Ride Control suspension with AIRMATIC, which offers continuously adjustable damping and can raise the vehicle by 30 millimetres to aid ground clearance. The AMG-tuned 4MATIC+ all-wheel-drive system offers a more performance-focused distribution of power to individual wheels, enhancing acceleration and road holding at higher thresholds.
Inside is the Mercedes-AMG interior, a Nappa leather AMG steering wheel, and heated and cooled front seats. Externally, the EQE 53 is further distinguished by a Mercedes-AMG exterior package along with AMG Night Package, plus 22-inch AMG multi-spoke alloy wheels and red-painted brake calipers.
The highly desirable EQE 53 is also protected by the standard GUARD 360° Vehicle Protection Plus package (optional on other models in the EQE SUV range), which incorporates an alarm system with tow-away protection. Drivers can also access a number of functions through the Mercedes me Connect app such as collision detection, stolen vehicle help, and emergency key deactivation.
The AMG DYNAMIC PLUS Package for $7,400 (MRLP) is outstanding. It combines selected driving dynamics extras such as the powerful Boost for the RACE START, an increased top speed of 240 km/h and the emotive AMG SOUND EXPERIENCE "Performance". If the battery temperature and state of charge are suitable, the maximum power and torque for RACE START can be briefly increased. In this case, the EQE 53 4MATIC+ SUV takes just 3.5 seconds to sprint from 0 to 100 km/h. The onboard bass actuator and speakers make the power of the electric motors clear even when stationary, and provide an emotionally charged sound backdrop to the rapid acceleration. The AMG-specific graphics in the displays also visually underscore the driving performance.
The Mercedes-AMG EQE 53 4MATIC+ SUV is priced at $189,900 (MRLP + on-road costs).