Audi Australia has confirmed pricing and specification of the new Audi Q8 55 e-tron and Q8 Sportback 55 e-tron models. The Q8 55 e-tron will replace the Audi e-tron SUV with its new model designation signifying its position as the new flagship SUV within Audi's electric portfolio.
The model boasts an optimised drive, improved aerodynamics, higher charging performance, expanded battery capacity, and an attractive six-year offer. To mark the arrival of the new Q8 e-tron, Audi Australia will offer a special Launch Edition for the Q8 55 e-tron featuring several sporty interior and exterior highlights.
Audi globally introduced its first all-electric series production model in 2018 with the launch of the Audi e-tron. Since then, the brand has continued to expand its electric model portfolio, with the new Audi Q8 55 e-tron set to continue the success story with high luxury-class comfort, outstanding everyday utility, and sporty driving performance.
"As the top of the electric SUV range for Audi, we are thrilled to welcome the Q8 e-tron to Australia", said Jeff Mannering, Director Audi Australia.
"With optimised drive, improved charging performance, a fresh design, and bigger battery capacity, I am confident this is the perfect fit for Australians looking for the ideal combination of uncompromised luxury and high everyday usability."
Launching initially with the Audi Q8 55 e-tron and Audi Q8 Sportback 55 e-tron variants, Audi Australia is celebrating the arrival with a special Launch Edition with attractive, sporty exterior and interior upgrades.
A new name: the flagship within the e-tron SUV portfolio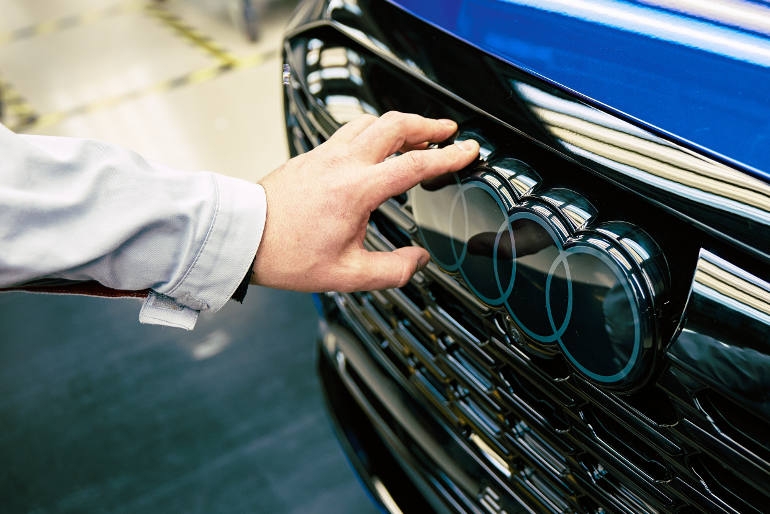 The Q8 55 e-tron is the first model in the Audi range with new corporate identity, featuring a flat, two-dimensional design of the four rings on the front and rear and for the first time, the Audi logo and model designation on the B-pillar. Previously named just 'e-tron,' the model's new name, Q8, positions the model at the top of Audi's nomenclature, making a clear statement that the Audi Q8 e-tron is the flagship model in the electric SUV and crossover range. There is no mistaking that the model is all-electric with the new front and rear design which systematically build on Audi's electric design language.
Expressive and highly functional: a refreshed, sporty exterior
The new Q8 55 e-tron is available as both a classic SUV and as the dynamically styled Sportback that combines the spaciousness of an SUV with the elegant lines of a large coupé. Standing 4,915mm in length, 1,937mm wide, and 1,619mm (Sportback) or 1,633mm (SUV) tall, the Q8 e-tron offers maximum space and comfort.
Refreshed exterior highlights include the shift to a three-dimensional front design, with a newly structured Singleframe mask that extends beneath the headlights. This, in combination with the newly designed underride guard, makes the front appear wider and creates a more pronounced SUV look – an impression further enhanced by the horizontal blade in the rear and widely exposed and flow-optimised wheel arch panels that give the car an aggressive stance.
While these updates revitalise the exterior impression of the vehicle, there are also several exterior design changes that have been introduced with improved functionality in mind.
Travel down the vehicle's face and new air curtains based off a jet nozzle design optimise airflow, while new wheel spoilers on the underfloor (SUV front only, Sportback front and rear) ensure streamlined airflow around the wheels. Optional virtual side mirrors assist in reduced aerodynamic drag, while even the standard-equipped Q8 e-tron features streamlined weather strip mirrors, both power-adjustable, heated and power-folding, auto-dimming, with a memory feature. A fully clad underfloor with bowl-shaped recesses or 'dimples', like that of a golf ball, allow the air to flow better than over a flat surface, contributing to the aerodynamic attributes of the vehicle.
These sophisticated features make a major contribution to range and efficiency in the Q8 e-tron, resulting in reduction in the drag coefficient from the previous model, from 0.26 to 0.24 for the Q8 Sportback e-tron and from 0.28 to 0.27 for the Q8 e-tron.
Sophisticated class: uncompromised interior luxury
In keeping with its flagship position within Audi's electrified portfolio, the Q8 e-tron features a sophisticated and luxurious interior. Noise insulation and aeroacoustics for acoustic comfort make the Q8 e-tron a haven of calm, particularly in concert with adaptive air suspension and quattro drive.
Interior highlights include a comfort pre-air conditioning system and two-zone climate control (four-zone in the Sportback), ambient interior lighting, and leather appointed upholstery and interior elements. Passengers are also enveloped in Sport front seats in the Sportback, as well as seat heating for the front seats and memory function for the driver, while the rear seat folds to a 40:20:40 split and includes a rear centre armrest with cup holders.
The 2,928mm wheelbase means that even rear seat occupants have plenty of legroom. At 569 litres (528L in the Sportback), the luggage compartment volume is also generous, while there is also a further 62 litres of storage capacity in the front luggage compartment or 'frunk'.
The perfect balance: improved driving dynamics and power
An unmistakable driving experience is typical of every Audi model, thanks to a perfect balance of dynamics and comfort. The Q8 55 e-tron is no exception and has been fine-tuned for heightened dynamic handling noticeable not only when pushed to the limit, but more importantly, in everyday driving situations.
Electric all-wheel drive with one asynchronous machine each on the front and rear axle, the Audi Q8 55 e-tron is equipped with standard air suspension with controlled damping, allowing the vehicle to adapt to a multitude of road conditions. The ride height can be adjusted over a total range of 76mm, lowering by as much as 26mm on the highway for improved stability and aerodynamics at high speeds as well as facilitating longer range. The Audi drive select dynamic handling system with seven modes comes standard for the ideal setting in any driving situation/terrain with greater spread and experience: offroad, allroad, auto, efficiency, dynamic, individual, and comfort. This combination of versatile suspension, a low centre of gravity and powerful electric motor offers optimum traction, outstanding dynamics, and superior stability on all terrain and in all weather conditions.
The ratio of the steering gear has been reduced for a much more direct steering response to even slight steering wheel movements. This gives drivers even more agile control over the vehicle for effortless, precise manoeuvring through curves, where the car feels nimbler despite its size and comparably high weight.
Further to this, the Q8 55 e-tron has a revised rear axle motor for improved dynamic handling. The motor on the rear axle has been increased from the previous 12 coils in the e-tron to 14 coils to generate a stronger magnetic field with similar electric input. In doing so, the electric motor requires less energy to generate torque and therefore lowers consumption and as a result, further increases range.
These enhanced dynamic qualities, which are particularly noticeable when steering and cornering, promise a delightful experience behind the wheel. Subsequently, the Audi Q8 55 e-tron has boost output of 300kW and 664 Nm of torque and can accelerate from 0 to 100 km/h in just 5.6 seconds (limited to a top speed of 200 km/h).
For the driver: infotainment, safety, and assistance aplenty
The Audi Q8 e-tron* offers an extensive range of infotainment and connectivity features, including MMI (Multimedia Interface) navigation plus with a 10.1″ touch/haptic screen for infotainment, an 8.6″ touch/haptic screen for vehicle functions and an Audi virtual cockpit with 12.3″ high resolution screen for navigation, infotainment, and driver feedback. Audi connect features as standard, as does Android Auto and wireless Apple Carplay. Connectivity is further supported for accessories with Audi phone box light for wireless charging and 2 USB ports in the front and in the rear.
The Q8 55 e-tron also includes approximately forty driver assistance systems with up to five radar sensors, five cameras, and twelve ultrasonic sensors supply in the central driver assistance controller with environmental information interpretation. The full suite of safety assistance systems include; parking sensors, 360-degree camera including kerb view function, adaptive cruise control and traffic jam assist, head-up display, lane departure warning, lane change warning (side assist), rear cross-traffic assist, intersection assist, autonomous Emergency Braking (AEB) including pedestrian and cyclist detection, collision avoidance assist, turn assist, exit warning, hold assist, tyre pressure loss indicator, and of course, Audi drive select.
Fast and efficient charging
The Q8 55 e-tron has a new 114kWh battery (gross) with expanded capacity thanks to advanced cell technology and new cell chemistry, increasing the maximum DC (Direct Current) charging performance by 20 kW to 170kW.
With these improvements, the range is 454km according to the WLTP standard (previously, the Audi e-tron SUV range was rated according to the NEDC standard in Australia), with the optimised aerodynamic design and resulting reduced drag coefficientplaying a significant role. 
Brake recuperation is also incorporated into the drive and can regenerate charge and feed it directly to the battery. The brake energy recovery can be set in several stages thanks to an integrated control system whereby more than 90 percent of all everyday braking processes can supply power to the electric motors (up to 0.3 g). This also assists with intelligent control of gliding and supports recuperation via predictive efficiency assistance systems within the ECU.
The Q8 55 e-tron comes with a 7.2kW charging system, a second AC (Alternating Current) charging port on the passenger side for road-parking convenience, an e-tron compact charger and the required wall bracket. It also comes with a charging cable inclusive of a single phase 230V 32A plug, an additional charging cable with single phase 230V 32A CEE Industrial plug and a Type 2 to Type 2 charging cable for public charging. Thanks to Audi's partnership with JETCharge, the Q8 55 e-tron also comes with a complimentary standard installation for charging at home.
Audi Australia is also offering all e-tron vehicles – including the Q8 e-tron – with a comprehensive customer offer that includes a six-year subscription to the Chargefox public charging network, which means e-tron owners are provided unlimited charging on all ultra-rapid and selected fast and standard chargers within the Chargefox network of which Audi is a founding partner. All ultra-rapid chargers are powered by 100 percent renewable energy. Further information can be found at https://www.chargefox.com/network/
Thoughtful production and a considered approach in design
The design of the Q8 e-tron considers sustainability in the vehicle's interior thanks to the use of recycled materials and resource-conserving materials. Audi is using recyclates – processed plastics derived from a recycling process – in some components of the Audi Q8 e-tron. The interior uses recyclates for carpets as well as in insulation and damping materials, meaning reduced consumption of resources and closing a material loop for reasons of economy and efficiency.
The Q8 e-tron also marks the first time that safety-relevant components are used which have been produced in part from mixed automotive plastic waste via a chemical recycling process. The plastic covers of the seatbelt buckles are the result of an innovative chemical recycling process. As part of the PlasticLoop project, Audi and plastics manufacturer LyondellBasell took the findings from a pilot project and established this new process that employs chemical recycling for the first time to reuse mixed automotive plastic waste for within the production of the Audi Q8 e-tron.
Peace-of-mind for Audi owners
As with the e-tron GT and RS e-tron GT, Audi Australia also offers all Q8 e-tron owners six-year Audi scheduled servicing and six-year Audi roadside assistance with each vehicle. The Audi Q8 55 e-tron also comes with a peace-of-mind of a five-year warranty and twelve years manufacturer warranty for bodywork against corrosion perforation for new vehicles, as well as an eight-year battery warranty for all e-tron vehicles.
Audi owners also receive a complementary membership during their warranty period to Audi Experience, Audi Australia's bespoke loyalty program that offers access to exclusive national events, intimate Audi Ambassador experiences and premium partner offers.
Further information on the program can be found at https://myaudi.com.au/experience.
A special Launch Edition to mark the occasion
As part of the exciting arrival of the Audi Q8 e-tron, a Launch Edition will be available with a focus on attractive sporty exterior and interior upgrades. The Launch Edition includes S line exterior styling with larger 21″ Audi Sport alloy wheels in metallic black, a black exterior styling package with Audi rings, mirror caps, and roof rails in black. S line interior equips the car with an S line steering wheel with grips in perforated leather with contrasting stitching, S sport front seats with integrated head restraints in Valcona leather upholstery and diamond patterned stitching, pedals in stainless steel and the headlining in black. Also included in the Launch Edition is electric steering wheel adjustment and coloured interior ambient lighting. Priced from $165,900*, the Launch Edition represents exceptional value.
Market introduction
The new Audi Q8 55 e-tron and Audi Q8 55 Sportback e-tron will arrive in Australian showrooms Q4 of 2023. 
The rest of the Q8 e-tron range, as launched globally including the Audi Q8 50 e-tron, Audi SQ8 e-tron and Audi SQ8 Sportback e-tron is slated for launch in Australia in 2024.
Pricing*
Audi Q8 55 e-tron
$153,900
Audi Q8 Sportback 55 e-tron
$165,900
Audi Q8 55 e-tron Launch Edition
$165,900
(*Manufacturer List Pricing [MLP] – excludes dealer delivery and government statutory charges)