Fleet Managers will be interested in comments from UK based Thatcham Research that are hailing the prototype hydrogen fuel cell electric variant of the popular Toyota Hilux utility as a benchmark in sustainable vehicle design strategy.
The Toyota Motor Manufacturing (UK) Ltd (TMUK) led project is a collaborative effort to pioneer zero-emission technology in the market for fleet market, reflecting evolving customer demand from Fleet Managers, technology developments and Toyota's 360-degree approach to sustainable mobility, funded by the UK Government's Advanced Propulsion Centre.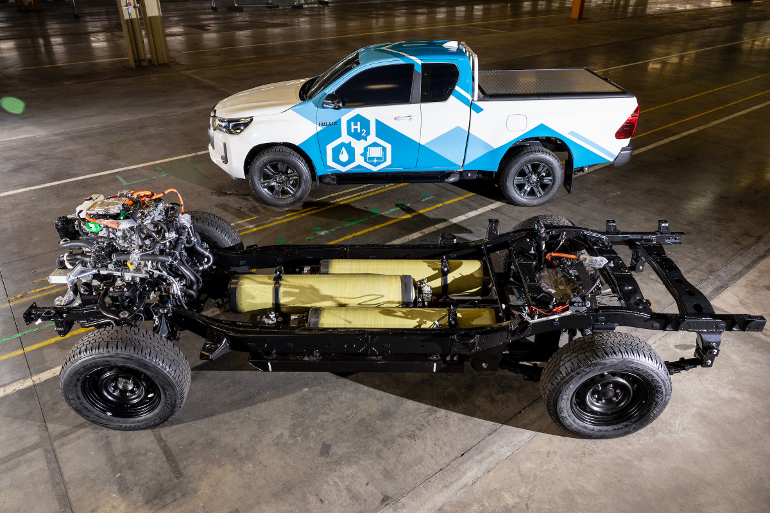 This endeavour assembles a consortium of strategic partners, led by Ricardo and including ETL (European Thermodynamics) and D2H Group, to adapt Toyota Mirai fuel cell components, thus transforming the Hilux pick-up to hydrogen fuel cell power.
If Toyota are experimenting with hydrogen and electric powertrains for the Hilux utility in other countries, it won't be long before Australian Fleet Managers will have the chance see one. The missing information in every project so far is the option of a dual cab 4X4 utility which is the top seller in Australia.
Throughout the design and prototype build phases, Thatcham Research has provided valuable insights focused on safe and sustainable repair. Thatcham Research is also building a training suite to drive dedicated hydrogen skills and awareness of safe handling practices into the repair ecosystem, as it has done with its 'EV Ready' electric vehicle training programmes.
Mark Fry, Thatcham Research's Engineering Manager, said: "By bringing together a consortium of skilled partners to not only transform the Hilux but also consider future customers and wider market requirements, this project makes for an excellent case study in sustainable vehicle design. Toyota's comprehensive approach goes beyond the technical intricacies of the conversion to consider factors such as Total Cost of Ownership, insurance risk rating and repairability, all of which are vital to creating a positive ownership experience for any new vehicle."
The ground-breaking pick-up was revealed at Toyota Manufacturing UK's Burnaston car plant in Derbyshire, with the brand describing its debut as: "further demonstration of the broad scope of Toyota's multi-technology strategy for ultimately achieving carbon-free mobility."
Fry added: "It is important that the commercial vehicle market is catered for in the drive for zero emission vehicles. The fuel cell Hilux provides an alternative solution to Battery Electric Vehicles, offering diversity in vehicles and powertrains. Thatcham Research is proud to support the repair industry in becoming Hydrogen FCEV Ready, as well as EV Ready."
This collaborative model stands as a testament to Thatcham Research's unwavering commitment to excellence and innovation in safety, security, and sustainable repair.