Kia Australia has released details about the EV9's local ride and handling tune ahead of its arrival into dealer showrooms in October. The all-electric Kia EV9 will become Kia's flagship model affirming the brand's ongoing evolution while providing drivers with their first opportunity to purchase an Upper Large electric SUV in Australia.
The Kia EV9 will be introduced in Australia with both the long-range 99.8 kWh AWD and standard-range 76.1 kWh RWD battery options.
The Kia EV9, the brand's first three-row electric flagship SUV, which encapsulates bold styling and sophisticated elegance inside and out, represents a pivotal step forward in the company's journey towards becoming a sustainable mobility solutions provider and has been created to deliver new standards of space, practicality, flexibility, comfort and technology.
"Kia is about to liven up both the Upper Large SUV segment and electric vehicle market, with the addition of the all-new and very unique, Kia EV9," said Kia Australia's Chief Executive Officer, Damien Meredith.
"It's big, full electric on a dedicated EV platform, provides seven seats, equipped with some really impressive technology and it's locally tuned; there really isn't an apples to apples competitor in the local new car market.
"As with the arrival of the EV6 range, consumer interest in the Kia EV9 has been extraordinary but thankfully, we will be receiving better supply of the EV9 and planning for 100 per month."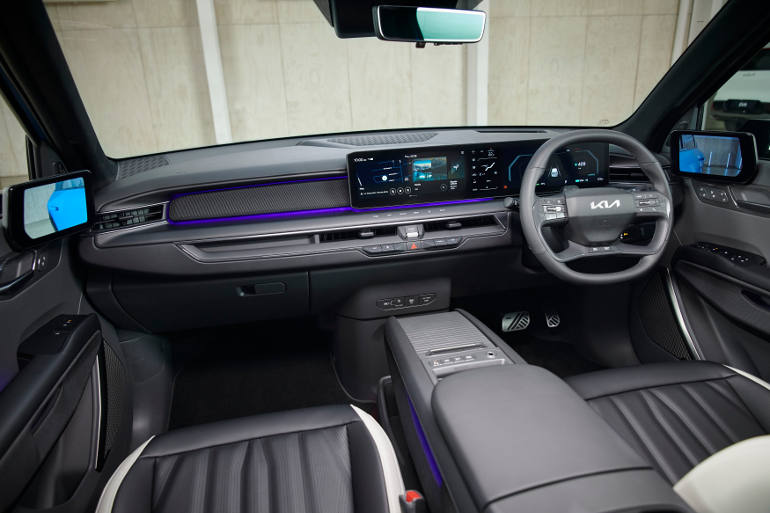 Developed over a period of 44 months every facet of the EV9 has been pushed to the limits of durability at both Kia's global Namyang R&D Center in Korea and most recently, locally on Australian roads.
During the global testing phase of the Kia EV9, it was relentlessly subjected to a gruelling verification program on a 4WD climbing hill and a rough terrain track, as well as a deep-water wading test, to ensure maximum reliability even in the most challenging conditions. Kia's high-speed, handling, and low-friction tracks place every element of the EV9's performance and roadholding under the strictest scrutiny.
The Kia EV9 has now been put to the test with Kia Australia's local ride and handling testing regimen ensuring its overall vehicle dynamics meet the expectations of Australian drivers, a new car buyer's requirement established by the EV6 electric vehicle range and the majority of Kia's internal combustion engine models before it.
"As the new halo product for the Kia brand, it was imperative that Kia Australia localised the EV9 to suit our roads and lifestyle," said Roland Rivero, General Manager Product at Kia Australia.
"We went through our normal robust program which commenced in Korea followed by detailed damper and steering development on Aussie roads, while collaborating closely with our colleagues from Namyang, who actually came to Australia with our key suppliers to support us throughout the process.
"The EV9 delivers a refined and polished ride across the varying conditions the Australian terrain offers." 
Kia Australia's Chief Ride and Handling Engineer, Graeme Gambold added, "Overall, we are very happy with how the EV9 drives. It is comfortable, confident and surprisingly nimble despite its dimensions and mass."
"In line with the vehicle's size and versatility, our local tuning program focused on marrying the unique demands of Australian road conditions with making the EV9 a very comfortable and effortless family cruiser.
"We aimed to make it capable not only in the urban jungle but, also enjoyable on a long drive and on challenging rougher roads. It does a great job absorbing bumps around town and soaks up the rough stuff at higher speeds on typical country roads, whilst maintaining good body control.
"This was also the first time we have worked with the combination of the E-GMP platform and self-levelling shock absorbers in the rear. The equipment all works in harmony for the EV9, keeping the vehicle level despite loads. This is important for this big and boxy 7-seater, ensuring front-end grip is maintained whether the EV9 has one driver, or a whole family plus cargo in the back.
"We are confident Australians will appreciate how the EV9 drives and how well it will cater to their lifestyle."
As the new flagship model, the Kia EV9 will be the most advanced product in the range, introducing several firsts for Kia in Australia. This includes Highway Driving Assist 2 (HDA 2), Kia's next-generation Advanced Driver Assistance System (ADAS) which functions only when driving on a freeway or motorway. HDA 2 fundamentally builds on adaptive cruise control with stop-and-go capability, combining with Lane Following Assist (LFA) to keep the car centred in the lane even when driving through a curve.
It adds a direct Hands-on Detection (HOD) sensor to the torque sensor recognition method to further enhance the recognition of the driver's steering control, providing warnings and if necessary, deactivation of HDA 2. As well as staying centred in the lane, HDA 2 can add a degree of offset to improve spacing between a vehicle in the adjacent lane.
Additionally, HDA 2 includes Lane Change Assist (LCA) which when activated whilst holding the steering wheel and fully engaging the turn signal in the desired direction, will automatically steer to the respective lane.
The Kia EV9 will also introduce the next generation of Kia's in-house developed infotainment and telematics system. Now termed Connected Car Navigation Cockpit (ccNC), this upgraded platform is designed to offer more processing power running on a new chipset and an even more user-friendly interface with revised graphics. 
Kia's ccNC includes Over-the-Air (OTA) updates which enable the system to undergo constant "wireless" improvements, with the latest maps, interfaces and software enhancements, and all without customers having to visit a service centre.
While numerous intuitive ways are presented for the driver and passengers to seamlessly engage with the EV9's advanced technology and features, they can also relax, secure in the knowledge that Kia's flagship SUV is continuously monitoring its environment, ready to react automatically, if required, to ensure the utmost safety of occupants, other drivers, and pedestrians.
The Kia EV9's unique mix of advanced assets combined with its exceptional dimensions (length of 5,010mm, a height of up to 1,755mm, a width of 1,980mm and a wheelbase of 3,100mm) has created a driver friendly and versatile Upper Large SUV.
Further details on local specifications for the Kia EV9 will be announced closer to its October launch date.