The latest electric car from PEUGEOT is the e-2008 Sports Utility Vehicle (SUV) was launched in September to meet the demand for EVs in the private and novated leases new car buyer markets.
Offering power, efficiency, and style in one impressive package. With its advanced electric drivetrain, spacious interior, and cutting-edge technology, the e-2008 SUV also represents PEUGEOT Australia's first-ever battery electric passenger vehicle.
At the heart of the e-2008 SUV is its state-of-the-art electric motor and 50 kWh lithium-ion battery pack, delivering a maximum power output of 100 kilowatts and 260 newton-metres of torque. The benefits of its electric driveline include instant acceleration and a smooth, quiet ride. Multiple driving modes, including Normal, Eco, and Sport, allow drivers to tailor their experience to take maximum advantage of the e-2008's potent drivetrain.
The e-2008 SUV excels not only in performance but also in practicality, offering a generous 434 litres of boot space, expanding to 1,467 litres with the rear seats folded down. The interior is thoughtfully designed with numerous storage compartments and comfort features.
With a Manufacturer's List Price (MLP) of $59,9901, the e-2008 comes with a WLTP test range of 328 kilometres2.
Charging the e-2008 SUV is easy with both AC and DC charging capability. Charging from zero-to-80 per cent via a 100kW DC fast charger takes approximately 30 minutes, whereas charging via a three-phase wall-box from zero-to-100 per cent takes approximately five hours3.
The e-2008 SUV is PEUGEOT's first 100% electric passenger vehicle to launch in Australia, joining the recently launched e-Partner light-commercial vehicle (LCV).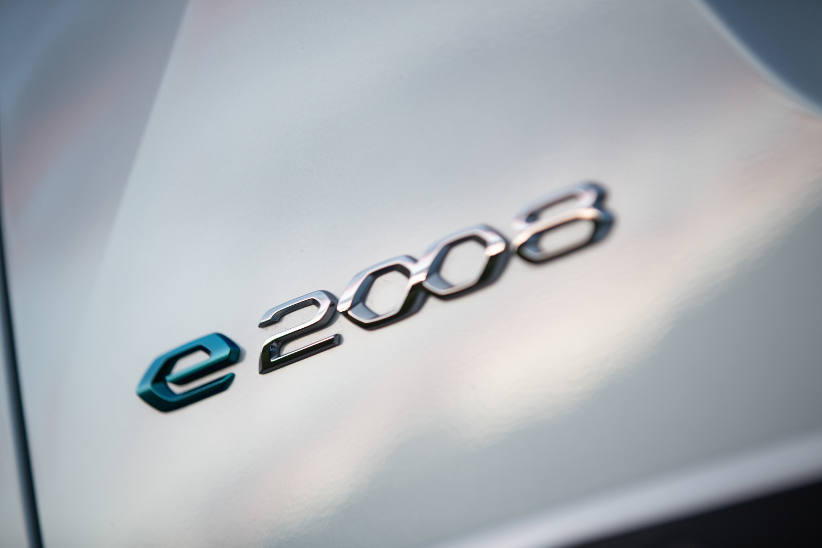 Bold exterior design
The exterior styling of the PEUGEOT e-2008 SUV is a harmonious blend of modernity, elegance, and sportiness. With sleek lines, bold features, and uncompromised attention to detail, this electric SUV stands out from the crowd.
The PEUGEOT e-2008 SUV's unique styling starts at the front with PEUGEOT's signature 'lion-claw' headlamps and 'fang' daytime running lamps, which are punctuated by an e-2008 unique vertical, body-coloured chequered front grille with contrasting black insets.
The subtle, yet purposeful styling highlights continue to the side with e-2008 models featuring a bespoke 'e' monogram just forward of the side-mirrors a nod to the vehicles all-electric drivetrain. A gently sloping roofline contributing to aerodynamic efficiency, reduces side profile bulk yet does not do so at the expense of interior space.
Unique ten-spoke, 18-inch diamond cut alloy wheels with black inserts are functional and pleasing to the eye.
Another distinct element of the e-2008 SUV's exterior is the conveniently placed charging port on the front fender. This allows for easy access and hassle-free charging.
The rear of the e-2008 SUV is equally captivating, with sleek LED taillights featuring PEUGEOT's signature three-claw design. The subtle nods to the e-2008's all-electric drivetrain continue with an 'e' monogram and a dichroic Lion emblem, which changes colour from different angles fitted to the tailgate.
PEUGEOT e-2008 features a bespoke lower bumper which does away with exhaust pipes and tips of the conventionally powered models. While a subtle roof spoiler and chrome accents provide a finishing touch, giving the e-2008 SUV a premium and refined look.
PEUGEOT e-2008 customers will be able to choose between six paint colours including:
Orange Fusion – standard
Nera Black – metallic paint – ($690)4
Artense Grey – metallic paint – ($690)4
Vertigo Blue – premium paint – ($1,050)4
Elixir Red – premium paint – ($1,050)4
Pearl White – premium paint – ($1,050)4
In line with existing 2008 models, the e-2008 does not compromise on space. Its dimensions measure 4.3m long, 1.77m wide (without mirrors), and 1.55m high, providing comfortable seating for five adults and generous interior space.
Sharp interior styling
The interior styling of the e-2008 SUV reflects PEUGEOT's commitment to creating a comfortable and modern driving environment. With its sophisticated design, premium materials, advanced technology, and attention to detail, the e-2008 SUV's interior sets it apart in the compact SUV segment.
The e-2008 SUV is equipped with PEUGEOT's innovative i-Cockpit™, which includes a compact steering wheel, a customisable 10-inch digital instrument cluster, and a heads-up display. This driver-focused cockpit enhances visibility and ergonomics, providing a more engaging and enjoyable driving experience.
A favourite of PEUGEOT customers worldwide, the e-2008 features the exceptional interior design concept, the PEUGEOT i-Cockpit™. Updated for the 2008, the fifth generation, i-Cockpit™ features a 3D display that projects information in hologram form. This prioritises information closer to the driver's eyeline, improving reaction time.
Complimenting the e-2008's i-Cockpit™ is an uncluttered dashboard which showcases a large central touchscreen display that seamlessly integrates with the overall design, serving as the command centre for various vehicle functions.
The centre screen area is the control point for the climate-control air conditioning, audio system (including DAB+ radio), Apple CarPlay ® and Android Auto TM connectivity5, 3D navigation and Bluetooth smartphone connectivity.
This technology focused interior is embellished with eight customisable ambient lighting options that can be selected via the touch screen. Onboard technology includes wireless smartphone charging, Apple CarPlay ® and Android AutoTM connectivity5, multiple USB ports, Bluetooth connectivity, 3D satellite navigation, 180-degree reverse camera, voice recognition and illuminated vanity mirrors.
The centre stack of the e-2008 features piano style keys which allow for easy access to control functions for 10-inch high-definition display including audio, navigation, smart phone, HVAC and other core functions.
Australian e-2008 GT models combine Alcantara®, leather trim6 and technical mesh with green stitched highlights to the seats. The driver seat is further pampered with the standard fitment of multipoint massage function and electric lumbar adjustment.
Moving rearward, the e-2008's centre console area features a new e-toggle automatic gear selector, while cup holders, electronic park-brake toggle and drive mode select switch are mounted behind the gear selector. The e-2008 also receives a centre armrest for utmost comfort.
The spaciousness of the rear seats makes the PEUGEOT e-2008 a particularly versatile SUV. All e-2008 GT models feature cup holders to the rear doors and twin USB ports for rear passenger, while ISO-fix restraints to the outermost seats and three top tether points across punctuate the 60:40 split fold rear bench.
Enveloping the entire cabin is a premium, mistral black interior roof lining paired with black roof pillars to the cabin adding to the cockpit feel. Also framing the e-2008 SUV, a premium panoramic glass opening sunroof comes as standard.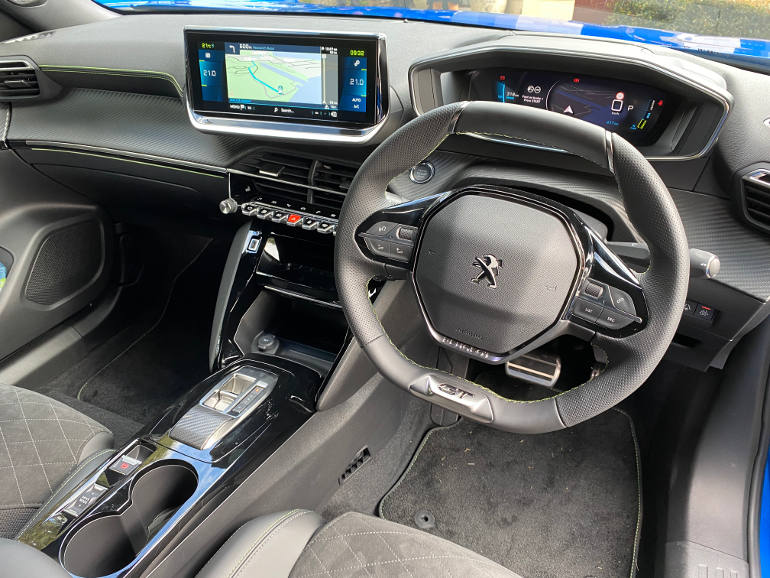 An exceptional platform
The PEUGEOT e-CMP platform has brought about a significant transformation in the compact SUV segment with the introduction of the PEUGEOT e-2008. This platform, specifically designed for electric vehicles, offers exceptional performance, advanced technology, and a sleek design, providing an unparalleled driving experience.
PEUGEOT e-2008 leverages this high level of modularity, combined with a variety of chassis parameters, to achieve a wide, low and long stance without sacrificing interior space or performance.
Safety is a paramount consideration, and the e-2008 SUV equipped with the e-CMP platform features advanced driver-assistance systems such as adaptive cruise control, lane-keeping assist, and automatic emergency braking. These technologies work in tandem to enhance the driving experience.
Comparative vehicle weight has been reduced using high-performance materials including advanced and ultra-high-strength steel (AHSS and UHSS), press-hardened steel, aluminum and composites.
Responsive and refined drivetrain
The PEUGEOT e-2008 SUV features an impressive drivetrain that combines power and efficiency. This all-electric SUV is equipped with a state-of-the-art electric motor and battery system, providing a thrilling and efficient driving experience.
At the heart of the e-2008 SUV's drivetrain is a 50kWh lithium-ion battery pack strategically placed low in the floor of the vehicle to optimise weight distribution and stability. This battery pack powers an electric motor that delivers a maximum output of 100kW and 260Nm providing instant torque and a smooth and quiet ride.
Charging the e-2008 SUV is convenient and fast, supporting both AC and DC charging. With a DC fast charger, the battery can be charged from 0% to 80% capacity in as little as approximately 30 minutes3. The Australian specification PEUGEOT e-2008 comes as standard with a three-phase 11kW charger.
Indicative charging times for the e-2008 via the 50kWh battery capacity include:
Approximately thirty minutes rapid charge from 0-80% capacity via a DC Current (100kW)3
Approximately five hours from 0-100% capacity via a three Phase 16A Wallbox (11kW)3
Approximately seven hours and thirty minutes from 0-100% capacity via a single Phase 32A Wallbox (7.4kW)3
The e-2008 SUV offers multiple driving modes to suit different preferences and driving conditions. In Normal mode, the vehicle delivers a balanced and efficient performance. In Eco mode, the power output is optimised for maximum range, perfect for longer journeys or when conserving energy is a priority. For those seeking a more dynamic driving experience, the Sport mode provides enhanced responsiveness and acceleration.
Furthermore, two modes of energy recovery when braking are available and accessible directly from the gear selector:
Drive ("D"), recovery is standard, for driving similar to an internal combustion vehicle; and
Brake ("B"), recovery allows deceleration directly from the accelerator pedal.
The batteries are optimally installed low in the floor, ensuring that choosing an electric version won't affect the performance or stowage capabilities of the new e-2008.
For peace of mind, all e-2008 models are supported by an eight-year, 160,000km battery warranty7.
Active safety
The PEUGEOT e-2008 SUV prioritises safety and convenience with its comprehensive range of advanced driver-assistance systems. It's suite of driver assistance systems include:
Adaptive cruise control with stop and go function: This system uses radar and cameras to maintain a safe distance from the vehicle ahead, automatically adjusting the speed to match the traffic flow. It can even bring the vehicle to a complete stop and resume driving when the traffic starts moving again.
Autonomous emergency braking: Which uses sensors to help detect potential collisions with other vehicles or pedestrians. If a collision is imminent, the system alerts the driver and applies the brakes automatically to help mitigate or avoid the impact
Blind Spot Detection (BSD): BSD uses lateral ultrasound sensors which work in conjunction with the windscreen-mounted camera to cover areas outside a driver's field of vision. Used when the PEUGEOT e-2008 SUV is overtaking – or being overtaken by – another vehicle, it illuminates an LED light in either door mirror to alert drivers to the presence of a range of vehicles including bicycles, motorcycles, cars or trucks.
Lane Departure Warning with unmarked edge protection: The lane departure system uses its camera to a detect road edge surface difference to help keep the car on-tract.
Acoustic Vehicle Alert System (AVAS): Which generates sound when travelling at low speed, audible outside the vehicle to support pedestrian safety.
Traffic Safety Suite: This includes features such as vehicle distance alert, driver attention alert monitor and traffic sign recognition.
Additionally, the e-2008 SUV incorporates other safety systems such as blind-spot monitoring, anti-lock brakes, electronic brake-force distribution, electronic stability control, rear cross-traffic alert, and a 360-degree camera. These systems help to provide additional awareness and assistance to the driver during lane changes, parking, and other manoeuvres.
Comfort and convenience
The PEUGEOT e-2008 does not sacrifice on amenity with its move to electric propulsion.
With a variety of unique storage on board, you'll find a place for life's wares. In addition to the traditional door pockets and the glove box, there is ample storage space under the front centre armrest and more in front of the gear stick. Additionally, there is more discreet storage at the bottom of the central console. There you'll find the very convenient induction charging area and its lid, which in an open position can cleverly hold a smartphone.
The PEUGEOT e-2008 SUV offers a range of practical and versatile storage options to accommodate your everyday needs. Despite its compact size, the e-2008 SUV maximises interior space, ensuring that you have ample room for both passengers and cargo.
Starting with the rear cargo area, the e-2008 SUV offers a generous 434 liters of boot space with the rear seats in place. This provides plenty of room for groceries, luggage, or other belongings. For larger items, the rear seats can be easily folded down in a 60/40 split configuration, expanding the cargo capacity to an impressive 1,467 liters.
Furthermore, rear modularity is ensured by a virtually flat floor once the bench is folded. This flexibility allows you to adapt the space to suit your specific needs, whether it is for a shopping spree or a weekend getaway.
In addition to the rear cargo area, the e-2008 SUV provides various storage compartments throughout the cabin. There are conveniently placed cupholders, door pockets, and a center console storage bin, allowing you to keep your personal items organized and within reach. There is even a hidden storage compartment under the floor of the boot, providing a discreet space for valuables or smaller items.
For the highest level of thermal comfort, specific equipment has been developed:
a 5kW heating resistor which provides heating in the passenger compartment.
a heat pump and automatic regulation of the passenger compartment temperature to guarantee a level of comfort equivalent to the internal combustion versions. The system is suitable for optimised energy consumption.
Officially on sale now, the PEUGEOT e-2008 is available to purchase at your local authorised PEUGEOT dealership and online at www.peugeot.com.au
PEUGEOT e-2008 Specifications:
BATTERY & ELECTRIC MOTOR
Lithium-ion battery
Capacity: 50kWh
Max power: 100kW
Max torque: 260Nm
Electric WLTP test range: 328km2
CHARGING
Onboard Charger: 11kW three-phase
Approximately thirty minutes rapid charge from 0-80% capacity via a DC Current (100kW)3
Approximately five hours from 0-100% capacity via a three phase 16A Wallbox (11kW)3
Approximately seven hours and thirty minutes from 0-100% capacity via a single phase 32A Wallbox (7.4kW)3
TRANSMISSION
WHEELS & TYRES
Wheel Size & Tyre: 18″ – 215/55 R18
Tyre repair kit
EXTERIOR DIMENSIONS (mm)
Length: 4,300
Width (mirrors open): 1,987
Width (mirrors closed): 1,815
Height: 1,550
Wheelbase: 2,605
BOOT VOLUME (LITRES)
With rear seats in place: 434
To roof height with rear seats folded: 1,467
WEIGHTS (kg)
Key PEUGEOT e-2008 Features:
The PEUGEOT e-2008 SUV arrives in Australia as a single highly specified GT variant and features as standard:
INFOTAINMENT
10″ High-Definition capacitive central touchscreen
Apple CarPlay® & Android Auto™ connectivity5
Smartphone cradle
6 Speaker sound system (4 woofer door speakers, 2 tweeter door pillar speakers)
8-colour ambient lighting
SEATING
Alcantara® & leather trim6 with green top stitch
Heated front seats
Multi-point front massage for driver's seat
Electric driver's seat
SAFETY
Full LED adaptive headlights
Autonomous Emergency Braking (AEB) with low light pedestrian & cyclist detection
Forward Collision Warning
In-crash braking (multi collision braking)
Automatic hazard light activation upon heavy brake application
Anti-lock Braking System (ABS)
Emergency Braking Assistance (EBA)
Electronic Braking Distribution (EBD)
Electronic Stability Programme (ESP)
ASSISTANCE SYSTEMS
Blind Spot Detection (BSD)
Lane Departure Warning (LDW) with unmarked road edge detection
Advanced Driver Attention Alert (DAA3)
Distance Alert System
Traffic sign recognition
Speed limit recommendation
Acoustic Vehicle Alerting System (AVAS – Generates sound when travelling at low speed, audible outside the vehicle for pedestrian safety)
Adaptive cruise control with Stop & Go and speed limiter function
Front & rear parking sensors
180° colour reversing camera with top-down view
Electric parking brake
Keyless entry and start
WHEELS
18-inch alloy wheels with Evissa onyx black tyres
Warranty7
The PEUGEOT e-2008 SUV comes with a 5-Year/ Unlimited kilometre Warranty, with a three-year paintwork and 12-year corrosion warranty.  In addition to the vehicle warranty, the battery warranty is 8 years or 160,000 km, whichever is sooner, from the vehicle's warranty start date. Learn more at: https://www.peugeot.com.au/owners/warranty.html .7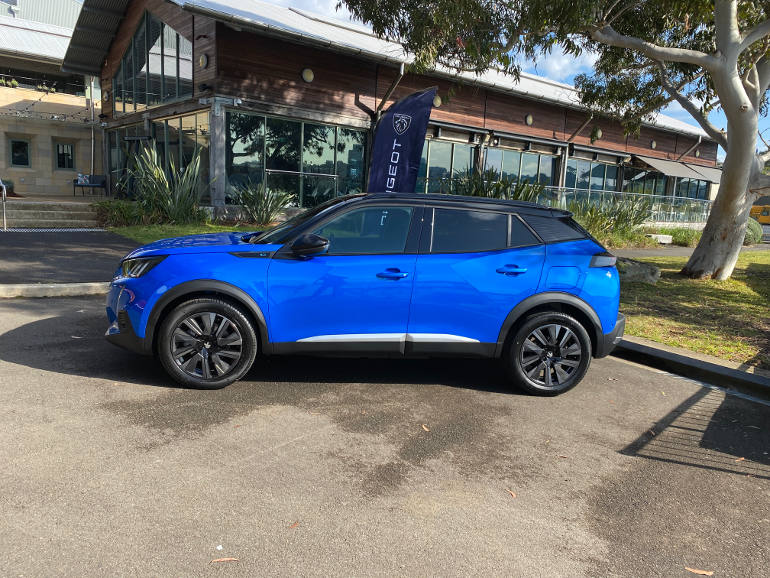 1 Prices are Peugeot Australia Manufacturer's List Prices only and include GST on the list price but exclude dealer delivery charges and all other government and statutory charges. For the drive away price of Peugeot vehicles consumers should be advised to contact their local authorised Peugeot dealer. 
2 Figure based on WLTP (Worldwide Harmonised Light Vehicle Test Procedure) static laboratory combined average city and highway cycle test, which measure, energy consumption, range and emissions in passenger vehicles, figures stated for the purposes of comparison amongst vehicles tested to the same technical procedures only. Actual real world range results will vary depending on a combination of factors including but not limited to load, driving style, type of journey, vehicle configuration, battery age and condition, use of vehicle features (such as heating and air conditioning), as well as operating, environmental and climate conditions. 
3 Charging times will vary depending on a variety of factors including, but not limited to, the output of the charger being used, starting battery charge, charging equipment, ambient temperature, battery state as well as the age of the battery at point of use. As a result of these factors, charging times may therefore vary significantly.
4 Metallic paint option $690 MLP and Premium paint option is $1,050 MLP.
5 Compatible Apple® or AndroidTM device required
6 Leather appointed seats are a combination of genuine leather & synthetic materials for durability and are not wholly leather. 
7 The PEUGEOT vehicle Warranty coverage is 5 years / unlimited kilometres. You are also protected by a 3 year paintwork warranty and a 12 year corrosion warranty. In addition to the vehicle warranty, the battery warranty is 8 years or 160,000 km, whichever is sooner, from the vehicle's warranty start date. Learn more at: https://www.peugeot.com.au/owners/warranty.html